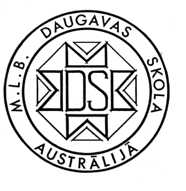 Melbourne Latvian Society School "Daugava"
21.01.2015


---
The Melbourne Latvian Society School "Daugava" was founded in 1950.
The School "Daugava" is a branch of the Melbourne Latvian Society and it is Latvian Saturday school for children from pre-school to grade 8. The school is a very important part of the Melbourne Latvian community. Volunteers provide school's successful work.





Aims of the School: to maintain Latvian environment outside Latvia, high Latvian children study level and professionalism of teachers based on Australian government, Victoria Ministry of Education second language teaching guidelines; to develop Latvian environment by using current teaching materials, by cultivating Latvian traditions and promoting pupils' pride with the help of teaching materials and methodology worked out in Latvia, other countries and self-made materials; to cooperate with teachers, pupils and parents.

The school closely cooperates with the Melbourne Latvian Secondary School. Both schools share the same premises. Both schools commonly organise annual events, and huge part of the primary school leavers continue learning in the secondary school.

The School "Daugava" is a member of Community Schools Victoria and Department of Education and Early Childhood Development accredited language school. The school cooperates with the global Latvian School Net and it has available educational resources and opportunities of professional development offered by the Latvian government and the World Free Latvian Association in whole world.



Contacts

E-mail: lateduc@netspace.net.au

School manager Līga Dārziņa
E-mail: liga@darzins.com
Phone: 03 9873 0792

Web page: http://www.daugavasskola.com.au