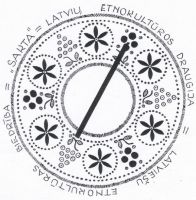 Latvian Society "Sakta" in Akmene district
28.01.2015


---
Akmenes rajono Latviu draugija "Sakta" ("Sagi")

The Society's aim is to unite Latvians living in Akmene District of the Republic of Lithuania, maintain Latvian identity by teaching Latvian language to children, organising meetings for Latvians with other Latvian Societies in Lithuania and organising excursions to Latvia. The main decision-making body of the Society is members' meeting. Society's work organise the Society Chairman, 2 assistants and accountant.

The Chairman of the Latvian Society "Sakta" in Akmene district is Sandra Saliamaniene.




History

On March 1, 1997 Latvian Ethno-cultural Society "Sakta" was established in Akmene Culture House. 15 founders participated in the meeting. Arvîds Skudris became the first Society's Chairman, his assistant - Spodra Bogavičiene.

The Society actively started its work, by organising Latvian days and other events, started work at the Latvian book collection, and repaired one room in Akmene Culture House from the Society's funds. Guests from Latvia were invited. The Society's members participated in Lithuania's Latvian events and organised excursions to Latvia.

In January of 1999 "Sakta" was registered as an independent non-governmental organisation. The name of the organisation - Latvian Society "Sakta" in Akmene district. Spodra Bogavičiene was elected as a Chairman of the Society.
In September of 2002 Akmene Latvians' Sunday school started its work that works in premises of the Society "Sakta".



Activities

Regular member meetings take place, the Society participates in common cooperation projects with Latvians living in Lithuania and Lithuanians living in Latvia. The Society tries to celebrate State and annual celebrations with other Latvians in Lithuania by visiting Latvians living in Lithuania in other organisations – in Vilnius, Kaunas, Klaipeda, and Joniski. The Society continues to collect Latvian books, organise excursions to Latvia, and participate in Lithuania's and Latvia's neighboring districts' – Akmene and Dobele common projects and events. The Society cooperates with Lithuanian minority Department and Latvian Embassy in Lithuania.



Contacts

Society's address:
Akmenes rajono Latviu draugija "Sakta", Stoties g. Nr.42, Akmene, LT-85379, Lietuva

Chairman of the Latvian Society "Sakta" in Akmene district Sandra Saliamaniene
Tel. 370 867214992
E-mail: saliamans@gmail.com