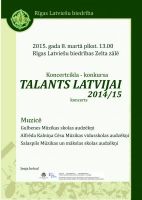 Concert cycle – contest "Talent for Latvia"
08.03.2015


---
The Riga Latvian Society, Latvian Children Fund and Brothers' Jurjāņi Society invite to the Concert cycle – contest "Talent for Latvia" concert that will take place on March 8, 2015 at 13.00 in the Riga Latvian Society Gold Hall.

In the concert will participate Gulbene Music School's, Alfrēds Kalniņš' Cēsis Music School's and Salaspils Music and Art School's students.

www.sif.lv
www.eeagrants.lv
www.eeagrants.org

Project is financially supported by Iceland, Liechtenstein and Norway.
This publication has been made with European Economic Area's Financial Mechanism's and State of Latvia financial support.
The Riga Latvian Society is responsible for the content of the publication.