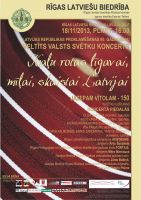 "I forge ornaments for my bride, dear, beautiful Latvia"
18.11.2013


---
"I forge ornaments for my bride, dear, beautiful Latvia"
Greeting Latvia and its citizens in the State's 95th birthday, the Riga Latvian Society organises concert "I forge ornaments for my bride, dear, beautiful Latvia" on November 18, at 16.00 in the Riga Latvian Society Big Hall.
This year important role in the concert programme is given to the composer Jāzeps Vītols, remembering the grand composer's 150th birthday. In the concert will sound also Estonian authors' compositions.
Year 1918 is the foundation year of three Baltic States – Latvia, Lithuania and Estonia. This year we will celebrate the important event together with Estonian Society " Estonia" ( Tallinn) and Tallinn Music Academy teachers and students.
In the concert will participate: Olga Zaiceva (soprano, Estonia), Aule Urba (mezzo-soprano, Estonia), Aivars Krancmanis (bass, Latvia/Estonia), Pīa Paemuru (piano, Estonia), Juris Kalnciems, Arnis Zandmanis, Ventis Zilberts (piano, Latvia), Riga Latvian Society chamber choir "Austrums" (conductor Ārijs Šķepasts), Riga Teacher Training and Educational Management Academy's mixed choir "Fortius" (conductor Māra Marnauza), Jāzeps Mediņš Music secondary school's mixed choir (conductor Jānis Baltiņš), Jāzeps Mediņš Music secondary school's symphonic orchestra (conductor Pēteris Plūme).
On State's birthday Riga Latvian Society invites everyone, who wants to be together on this so important day for our country and nation!
www.sif.lv
www.eeagrants.lv
www.eeagrants.org
Project is financially supported by Iceland, Liechtenstein and Norway.
This publication has been made with European Economic Area's Financial Mechanism's and State of Latvia financial support.
The Riga Latvian Society is responsible for the content of the publication.