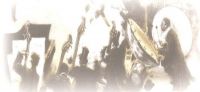 Wind instrument department's teaching staff reading – concert
08.03.2015


---
The Riga Latvian Society Music Commission invites to the Cycle's Jāzeps Vītols' Latvian Academy of Music teaching staff's and students' concerts'17th concert season Chamber music evening in the Riga Latvian Society Gold Hall on Wednesday, March 4, 2015 at 18.00 to listen to the Wind instrument department's teaching staff reading – concert.

In the concert will participate Ilona Meija, Imants Sneibis, Ilze Urbāne – flute, Egils Upatnieks – oboe, Mārtiņš Circenis – clarinet, Ilze Lejiņa, Baiba Tilhena, Artis Sīmanis, Ainars Šablovskis – saxophone, Andris Arnicāns – bassoon, Viesturs Vārdaunis – French horn, Jānis Porietis, Edgars Švembergs – trumpet, Uldis Zilberts – trombone, Roberts Donis, Jānis Pusplatais – euphonium, Raivis Māgurs, Jānis Retenais – tuba and Rihards Zaļupe – percussions. Concert masters Elīna Bērtiņa and Herta Hansena. Introductory words by emeritus professor Vilnis Strautiņš.

In the programme compositions of Latvian and foreign composers.
Entrance free!

www.sif.lv
www.eeagrants.lv
www.eeagrants.org

Project is financially supported by Iceland, Liechtenstein and Norway.
This publication has been made with European Economic Area's Financial Mechanism's and State of Latvia financial support.
The Riga Latvian Society is responsible for the content of the publication.