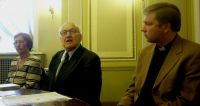 Narrations about Rasma Grīsle (1922 – 2013) and Rūdolfs Hofmanis (1921 – 2014) are available
01.08.2014


---
<![endif]--> <![endif]--> <![endif]-->
Narrations about Rasma Grīsle (1922 – 2013) and Rūdolfs Hofmanis (1921 – 2014) are available
On June 2, 2014 in the Riga Latvian Society House – place, where 110 years ago Latvian Language Section was founded (leaders – Kārlis Mīlenbachs, Jānis Endzelīns), that was making link between specialists of Baltic languages, Latvian lexicography and language praxis and every active and responsive language user and interesent, the RLS Latvian Language Advancement Group (LVAK) organised the remembrance evening "«Our language strength – duration and its values' guards in our memories ".

«On June 2, the RLS Latvian Language Advancement Group's meeting was special with the large number of participants, those, who knew Rasma Grīsle there in Latvia, knew her personally or her language works. In the meeting were a lot of friends and devotees, who knew Rūdolfs Hofmanis, while they had been in the exile in the far away USA," tells Maija Sinka – coordinator of the Latvian Language Advancement Group, one of its founders in 2001.

«All of us were interested to hear the personal memories and thoughts about both these persistent and selfless our language defenders. They were so responsible nation's ad language workers that we can say – both of them took care about our language quality and life both, towards the enslavement and assimilation."
Both, recently passed away culture workers, were as an important bridge between pre-occupation Latvian linguistics that in a short period of time started using free state's and culture's fertile, for science and Latvianity favourable soil, maintain link between topical world's language tendencies and after-occupation's, respectively, nowadays aspirations to take care of, clear out, evaluate, widen and enrich different practical and theoretical our language aspects.
Maija Sinka adds: «Personal memories narration of Ingmars Zemzaŗis gave a wonderful insight in the evaluation of Rasma Grīsle personality as it has been seen by more than half a century younger man, who has grown up in the occupied Latvia's environment with absolutely different priorities of values. He himself was having a deep look and interest about languages and culture values and he highly evaluated Mrs. Grīsle's kindness and mental wealth, her ethically moral in-compliance with forced instructions and demands. We heard his thankfulness and high appreciation words said in well-founded conviction. »
In the photo: three of narrators: Gizela Vilcāne, Pēteris Kļaviņš, and Ingmars Zemzaris. Ten lecturers' narrations made a huge interest in listeners during more than two hours long meeting in the RLS Club hall.
The publications prepared by Rasma Grīsle, Rūdolfs Hofmanis and others have taken the honourable place in the LVAK book collection for already long time, some of them have been successfully spread in the electronic book format.

www.sif.lv
www.eeagrants.lv
www.eeagrants.org
Project is financially supported by Iceland, Liechtenstein and Norway.
This publication has been made with European Economic Area's Financial Mechanism's and State of Latvia financial support.
The Riga Latvian Society is responsible for the content of the publication.