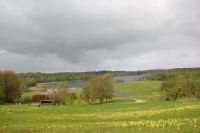 The Riga Latvian Society members clean-up the memorial sites and the surroundings of the cultural workers Rūdolfs Blaumanis and Brothers Jurjāni
18.05.2015


---
Within the framework of the Riga Latvian Society implemented project SIF EEZ NGO DAP "Stand hard, Work Bravely" No..2012. EEZ/DAP/MAC/068/1/NAC/054/2015 the Riga Latvian Society members went to Ērgļi on May 18, 2015 to visit and clean-up the memorial sites and surroundings of the Latvian cultural workers connected also with the Riga Latvian Society Rūdolfs Blaumanis and brothers Jurjāni.

The writer's Rūdolfs Blaumanis' (1863-1908) and musician's Jurjānu Andrejs (1856-1922) life and working road were closely connected with the work of the Riga Latvian Society. The members of the RLS, despite the changeable spring weather, had opportunity to work and also visit R.Blaumanis' memorial museum "Braki" together with the researcher of the writer's life and works and the author of the book "Blaumanis tuvplānā" (Blaumanis in Foreground) Anna Kuzina. The mound of R.Blaumanis in Ērgļi graveyard was also cleaned-up. The day concluded in "Meņģeļi" – brothers'' Jurjāni memorial museum, where the participants discussed about the done works and the future plans at a tea cup.

www.sif.lv
www.eeagrants.lv
www.eeagrants.org

Project is financially supported by Iceland, Liechtenstein and Norway.
This publication has been made with European Economic Area's Financial Mechanism's and State of Latvia financial support.
The Riga Latvian Society is responsible for the content of the publication.