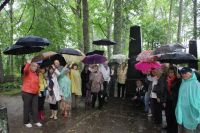 Riga Latvian Society's surrounding environment's cleanups
04.07.2014


---
Riga Latvian Society's surrounding environment's cleanups
On June 20 the Riga Latvian Society organised cleanups to clean up the surroundings of graves of the cultural workers, who have been connected with the Society's history and other important culturally historical places.
First cleanup took place in Jaunpiepalga Municipality, where the Riga Latvian Society's representatives cleaned up the surrounding environment of Zosēni Municipality's Skrāģi ex – pub, where opera's "Baņuta" museum is placed. This territory was the birthplace of Artūrs Krūmiņš, who was the libretto author of the first Latvian opera "Baņuta". The opera "Baņuta" is very closely connected with the Riga Latvian Society. The Riga Latvian Society Music Commission announced the competition for the libretto of the opera to promote development of Latvian original opera. In the competition of seven works, during which was also the Latvian outstanding writer Rainis, won the new student of Polytechnic Institute Artūrs Krūmiņš, who had been origin from Skrāģi innkeeper as the fourth his son, with the libretto "Baņuta". The music several years later, in already 1918/1919, composed his contemporary and friend from the town Cēsis Alfrēds Kalniņš. The premiere of the first Latvian national opera was on May 29, 1920. During the cleanup the representatives cleaned up the surroundings of the museum, the greenery was made as a commemorative dedication from the Riga Latvian Society and also the museum's premises were cleaned up. In Jaunpiebalga graveyard Dārziņi family's graves were cleaned up.
Further the way led the cleanup participants to the Vecpiebalga Vidus graveyard. Here are the graves of two outstanding cultural workers without which the Latvian culture is not imaginable and, who have left permanent contribution also in the history of the Riga Latvian Society. Matīss Kaudzīte was the Riga Latvian Society Honourable member and to Kronvalds Atis the Riga Latvian Society built a monument in 1893 as gratitude. The representatives planted flowers at the graveyards of both eminent men, cleaned up the environment and left greetings in the form of candle flames.
The representatives of the Society, continuing the last year's campaign, where all the interesents were invited to participate in oak trees' planting, symbolically planted three oak trees. Each oak tree got its name - Pērkons, Potrimps, and Pīkols that relate with the gods depicted on the RLS House façade's fresco.
The Riga Latvian Society continues to implement the project "Stand Hard, Work Bravely" in 2014 that takes place in the framework of the European Economic Area's financial mechanism's year 2009-2014 period's programme's "NGO Fund" sub-programme "Support Programme of Nongovernmental Organisations' Work". The cleanups were organised in the framework of the project "Stand Hard, Work Bravely".
www.sif.lv
www.eeagrants.lv
www.eeagrants.org
Project is financially supported by Iceland, Liechtenstein and Norway.
This publication has been made with European Economic Area's Financial Mechanism's and State of Latvia financial support.
The Riga Latvian Society is responsible for the content of the publication.