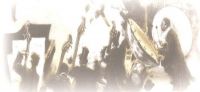 Piano Department students' concert
03.11.2014


---
Riga Latvian Society Music Commission
CHAMBER MUSIC EVENINGS
In the Riga Latvian Society Gold Hall Merķeļa Street 13

On Wednesday, November 5, 2014 at 18.00

Cycle's Jāzeps Vītols' Latvian Academy of Musicteaching staff's and students' concerts'17th concert season

Piano Department's students' CONCERT

Participate: Anna Berklāva, Ilana Makarina, Kristīne Pričina
Zane Rubesa, Almudena Palomino Sanchez, Laura Tamane, Georgijs Osokins
Professor's Juris Kalnciems' reading-comments

In the programme: F. Chopin, C. Debussy, E. Granados, S. Rachmaninoff, B. Bartok, V. Dārziņš, L. Garūta, M. Pētersone

Admission free!

www.sif.lv
www.eeagrants.lv
www.eeagrants.org
Project is financially supported by Iceland, Liechtenstein and Norway.
This publication has been made with European Economic Area's Financial Mechanism's and State of Latvia financial support.
The Riga Latvian Society is responsible for the content of the publication.