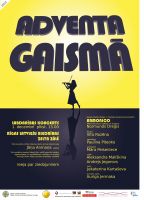 On the first Sunday of Advent at the Riga Latvian Society – traditional charity concert "In the Light of Advent"
01.12.2013


---
On the first Sunday of Advent at the Riga Latvian Society – traditional charity concert "In the Light of Advent"
"Charity is the noblest action of each artist and musician. Also the Riga Latvian Society's establishment is closely connected with charity and help to those, who have come in trouble. Maintaining this historic tradition, we – Riga Latvian Society – in cooperation with Jāzeps Mediņš' Riga 1st Music School, Strazdumuiža Boarding school - development center for the visually impaired and blind children and Latvian Children's Fund for the fifth year organise charity concert cycle "In the Light of Advent", tells RLS council's member and the idea author of the concert Normunds Dreģis.
The concert "In the Light of Advent" will take place on Sunday, 1 December, 2013 at 15.00 in the Riga Latvian Society Gold Hall. All gathered donations for already second year will be devoted to the making and setting up of the special technical equipment for disabled people in the Riga Latvian Society 1st floor foyer. After placing such equipment, disabled persons will comfortably get from first floor foyer to the lift and move more easily inside the Society House, when visiting different events.
The aim of the concerts is to support mentally and materially disabled persons and give them opportunity to integrate in our culture environment. The charity concert is special event, where meet people with very different destinies and life experience, who creatively cooperate and unite in common music and art language.
In charity concert each year participate children and young people, as well as professional and internationally acknowledged musicians and artists. Last year for charity their investment gave painters Jāzeps Pīgoznis, Jānis Anmanis and Juris Ģērmanis. We have already helped Strazdumaiža Boarding school to develop Braille's books, obtain new minibus that is fitted to the needs of disabled children, and have supported Rehabilitation centre "We Are Beside" in baying music instruments for children with cerebral stroke disturbances.
In the concert everybody will listen to beautiful music, bright and expressive soloists and at the same time will support disabled people. In the concert will sound compositions of Antonio Vivaldi, Wolfgang Amadeus Mozart, Johann Friedrich Burgmüller, Benjamin Britten, Ilze Arne and Dzintra Kurme-Gedroica.
In the concert will participate: Vita Rozēna (flute), Paulīna Piteņko (saxophone), Māra Peiseniece (accordion), Aleksandra Mališkina, Andrejs Jegorovs (violin), Jekaterina Kartašova (cello) and Jāzeps Mediņš Riga 1st Music School's chamber orchestra "ARMONICO", conductor Normunds Dreģis. The concert will lead the musicologist Auriga Jermaka.
All are welcome! Entrance by donations.
www.sif.lv
www.eeagrants.lv
www.eeagrants.org
Project is financially supported by Iceland, Liechtenstein and Norway.
This publication has been made with European Economic Area's Financial Mechanism's and State of Latvia financial support.
The Riga Latvian Society is responsible for the content of the publication.