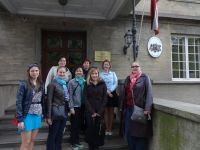 Meeting with Latvians in Norway
24.04.2014


---
Meeting with Latvians in Norway
At the end of April the representatives from the Riga Latvian Society, Creative Association for Youth "TREPES" and Strazdumuiţa Boarding School - development centre for the visually impaired and blind children went to experience change trip to Norway. The trip, which main aim was acquaintance with non-governmental organisations' in Norway work and experience, was organised in the framework of the project "Let's Open the World for Opportunities and Skills".
Three day programme in Oslo was wide-ranged, intensive and fertile, giving valuable knowledge, skills and experience about public organisations' work outside Latvia. Latvian representatives met Latvians living in Norway, got to know there founded public organisations' work, mission, aims, as well as their topical problems. Meetings brought exchange of valuable and new opinions; the participants got information about organisations' cooperation with rural municipalities and state institutions, their culture, social work, education, communication and information exchange questions.
Deeper insight the representatives got in three organisations' work – Latvian Society in Norway, Latvian Heritage Group "An Old Coffer" and "Chestnut's School".
Latvian Society in Norway was founded on February 17, 1952. At the beginning it was called Latvian Aid Society in Norway that was changed to Latvian Society in Norway on December 2, 1990. Latvian Society in Norway is profitless, voluntary public culture organisation, which aim is to maintain Latvian nation's culture, language, traditions, national identity and Latvian lifestyle in Latvians', living in Norway environment, as well as to promote distribution of Latvian culture and information about Latvia in Norwegians' society. The Society consists of more than 70 members. Its working centre is Oslo, but the Society has started active work to establish regional departments to implement its mission by covering possibly larger part of the Latvian commune representatives in whole Norway.
Main activities of the Society are the Society's enlarging, Latvian school's activities, web-page development and organising of different events for the maintenance of the Latvian culture and commune's uniting. It is opened for enrolment of new members, up-to-date cooperation with other organisations in the world, as well as varied civil activities and projects.
The Society actively participates in Norway's social life and supports Latvia. On November 1, 1996, when Embassy of the Republic of Latvia to the Kingdom of Norway started its work, close cooperation started between the Society and embassy. The Society moved into the embassy's premises. In its turn on September 20 and 21, 2000 Vaira Vîíe-Freiberga visited Norway during her State visit, and in her reception actively helped the Society's Board and members. Already from the foundation the Society does social, economic, culture, juridical and humanitarian Society's work, getting in touch with Latvian State envoys and Latvian refugee organisations. The Society has supported with funds Latvian National Foundation, Munster Latvian Gymnasium, Latvian Centre in Munster and others. The Society has given material support also for Latvia: teaching aids to schools, grants to Latvian students for studies in Norway, beds and wheelchairs to old people's homes, individual support for poor families, gift packets to prisoners in Riga and Valmiera prisons and Derpele (Bauska Region) old people's home repair.
During the past ten years, for different reasons, a lot of Latvians have immigrated to Norway, including families with children. For that reason school for children, who speak Latvian "Chestnut's School" was established that started its work in November, 2003. At the beginning there learned 10 children and their parents. At the moment the school visit 40 children of different age. During past 3 years "Chestnut's School's" activities are regular 2-3 times a month during weekends. The school has developed several guidelines, it has its own flag, hymn, symbol – a chestnut and 2 times during the school year the newspaper "Chestnut Rolls" is published. The aim of the school is not to lose its identity and belonging to Latvia, teach and improve Latvian Language, traditions, obtain Latvian speaking friends, spend together free time and celebrate festivities.
Latvian Heritage group "An Old Coffer" started its work not so long time ago, there have united the participants to share their Latvian heritage that they have received through their families. "An Old Coffer" invites to join those, who are interested in maintenance and handing over to the next generations nation's traditions', folklore and mental values. During the meeting Riga Latvian Folklore Commission's leader exchanged her experience about the maintenance of culturally historical heritage, documenting, importance and showed her brought documental film about strengthening of Latvian traditions.
During the meeting in Latvian Embassy in Norway closer attention was paid to the project's "Let's Open the World for Opportunities and Skills" activities, where to participate are invited also children in Norway. Together with Latvian youth the representative from Creative Association for Youth "TREPES" played the game "Breath Green" about tuberculosis, smoking, immunity and green lifestyle. During the game the participants had active discussions about different dependences and searched for different and common features in social questions and work characteristics in Latvia and Norway. The game was passed on to Latvian Society's representatives for playing, using and popularising it.
The Riga Latvian Society expresses its gratitude to Latvians in Norway about their responsiveness and hospitable welcome. Special gratitude we express to Latvian Society's in Norway board's chairman Ieva Melbârde, deputy Ingűna Ingeborga Haanes and coordinator of institutional questions Kârlis Valdmanis!
Information prepared
Riga Latvian Society
Advertisement and information project manager
Zinta Gugane
Mob +371 29528022
E-mail: zinta.gugane@rlb.lv

www.sif.lv
www.eeagrants.lv
www.eeagrants.org
Project is financially supported by Iceland, Liechtenstein and Norway.
This publication has been made with European Economic Area's Financial Mechanism's and State of Latvia financial support.
The Riga Latvian Society is responsible for the content of the publication