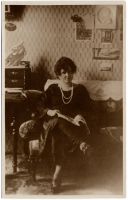 Literary afternoon "The Thought is a Root that stretches in the Earth…"
28.04.2014


---
Literary afternoon "The Thought is a Root that stretches in the Earth…"
The Riga Latvian Society's Theatre Commission, Literature Commission and Association of Memorial Museums Rainis and Aspazija House-Museum invites to the literary afternoon "The Thought is a Root that stretches in the Earth…" on April 28, 2014 at 18.00 in Ligo Hall. The event is devoted to promulgator of the European culture mental values, the outstanding Latvian poet, playwright, the Riga Latvian Theatre worker Aspazija.
Aspazija is one of the Latvian culture peaks. Her bright and unique talent, her literary heritage has an important role in nowadays society's understanding about its nation's culturally historical processes. About her socially active life Aspazija herself has told: "The human's life is beautiful and grand, if it is spent in work and, if the work has been creative, where the worker himself has grown together with it."
During the afternoon the RLS Theatre Commission's leader academician Viktors Hausmanis together with the RLS Literature Commission's member mg.phil Gaida Jablovska will narrate about Aspazija's drama, will look into the poet's places of residence and life rhythm. The actors Ieva Műrniece and Haralds Ulmanis will recite Aspazija's works.
Aspazija has written her word in the Riga Latvian Society history. In 1887, at that time 22 years old, enthusiastic poet submitted her original play - dramatic work "Revenger" to the Theatre Museum's announced competition and got the main prize. The jury acknowledged that "She gets the first place taking into account the richness of the content. Characters everywhere are natural and well performed; the scenes are full of effects, thrilling. The language - very good, proportionate for the serious content." Aspazija continued working as a playwright, wrote the prologue for the Riga Latvian Society's 25 years jubilee celebration and got recognition from the Theatre Commission's leader Kristaps Bergs and patron Augusts Dombrovskis, became acquainted with Rűdolfs Blaumanis and her plays "Vaidelote" and "The Lost Rights" were staged in the Riga Latvian Theatre. About this her life's period the poet wrote "...the most outstanding intelligence representatives liked me, even highly respected, spoiled and tried to keep me among them with all their efforts." The critics wrote that together with Aspazija "the soul came into the literature" – displaying her ability to describe with certainty and nobly human's thoughts, feelings and desire.
www.sif.lv
www.eeagrants.lv
www.eeagrants.org
Project is financially supported by Iceland, Liechtenstein and Norway.
This publication has been made with European Economic Area's Financial Mechanism's and State of Latvia financial support.
The Riga Latvian Society is responsible for the content of the publication.