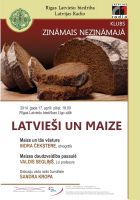 Latvians and bread
17.04.2014


---
INVITES CLUB "KNOWN IN THE UNKNOWN":
Latvians and bread
On Thursday, April 17, at six o clock in the evening the club "Known in the Unknown" invites to the meting. The ethnographer Indra Èekstere this time will tell about bread, its history and us – Latvians. And the University of Latvia professor Valdis Segliòð will present with the variety of bread.
The club, as always, will be lead by the radio broadcast's "Known in the Unknown" journalist Sandra Kropa.
Club's "Known in the Unknown" meetings take place once a month at the Riga Latvian Society. It is known that during this winter and spring session themes will be interesting and questions about handwritings, their research methods, organ transplantation, underwater world and – what has to be known about plants around us will be disclosed.
All are welcome!
www.sif.lv
www.eeagrants.lv
www.eeagrants.org
Project is financially supported by Iceland, Liechtenstein and Norway.
This publication has been made with European Economic Area's Financial Mechanism's and State of Latvia financial support.
The Riga Latvian Society is responsible for the content of the publication.