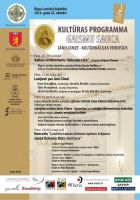 Jānis Cimze – developer of culture-nation
27.10.2014


---
On October 25 all are welcome to the Riga Latvian Society to the culture programme's Light Beckoned: Jānis Cimze – developer of culture-nation events with which will end so important for us culture worker's 200 years celebration. This programme has made together the Riga Latvian Society, Valka Municipality Council, Latvian National Centre for Culture, Jāzeps Vītol's Latvian Academy of Music, UNESCO Latvian National Commission and Latvian Composers' Union.

The culture programme at 10.20 will start Valka senior choir "Dziesmu Rota" (Song Adornment- conductor Tatjana Tīruma) that will be followed by the Riga Latvian Society Chairman's Guntis Gailītis and Valka Municipality Council's Chairman Ventis Armands Krauklis speeches. Celebration will continue in the Society's Gold Hall, where will be held ceremonious speeches followed by readings about Jānis Cimze by Arnolds Klotiņš, Tālis Pumpuriņš, Jānis Erenštreits, Ilma Grauzdiņa and Arvīds Bomiks.

At 13.00 in the White Hall will be opened Valka Art School's students' painting exhibition and Valka and Valga museums' travelling exhibition Jānis Cimze – teacher of Estonian and Latvian schoolmasters and Valka county craft masters' exhibition that will be opened till November 18. During the event also Valka Municipality Council's prizes for the best county's educational worker will be given. The guests will hear speeches of Valka Municipality Council's Chairman Ventis Armands Krauklis, Valka Museum of Local History specialist Ligita Drubiņa and Jāzeps Vītol's Latvian Academy of Music rector, then the only obtainer of Jānis Cimze grant, Professor Artis Sīmais. The speeches will be followed by Academy of Music string quartet's - Aleksandra Mališkina, Baiba Biezā, Una Sedola, Reinis Melbārdis – greetings, by playing Aldonis Kalniņš' Latvian folk song arrangements for string quartet.

The culture programme will end at 15.00 in the Big Hall with the concert Latvian folk song arrangements' collection New Song Adornment opening. There will sound the poet's Lija Brīdaka dedication to Jānis Cimze in his great anniversary, prize-winner songs of Latvian folk song arrangements' competition of Solvita Bukša, Ilona Breģe, Anna Veismane, Jānis Strazds, Vita Ruduša and Andris Sējāns and original works of Selga Mence, Mārtiņš Brauns and Raimonds Pauls with Jānis Peters' words that are included in the dedication cycle Strong Palace – Song Adornment and the cycle for Jānis Cimze's Song Adorment's inspired choirs and saxophone quartet arranged by Inga Meijere. In the concert will participate the poet Lija Brīdaka, Latvian Academy of Culture mixed choir Sõla (conductor Kaspars Ādamsons), chamber choir Fortius and Riga Teacher Training and Educational Management Academy's women choir Balta (conductor Māra Marnauza), Riga Latvian Society chamber choir Austrums(conductor Ārijs Šķepasts) and saxophone quartet n[ex]t move (leader Inga Meijere).

The interesents will be able to buy publishing house's Musica Baltica music and book editions.
All are welcome! The entrance is free.
Latvian Society Chairman Guntis Gailītis

www.sif.lv
www.eeagrants.lv
www.eeagrants.org
Project is financially supported by Iceland, Liechtenstein and Norway.
This publication has been made with European Economic Area's Financial Mechanism's and State of Latvia financial support.
The Riga Latvian Society is responsible for the content of the publication.