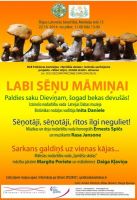 IT IS GOOD TO BE A MUSHROOM MOTHER
22.10.2014


---
In the Riga Latvian Society, Merķeļa Street 13
On October 22, 2014 from 11.00 till 13.00 will take place RLS Folklore Commission's event

IT IS GOOD TO BE A MUSHROOM MOTHER

In the programme:
I say thanks to the God, this year boletes have succeeded!
Educational lesson leads The Latvian Museum's of Natural History Botanic department's manager Inita Daniele

Mushroom pickers, mushroom pickers; do not sleep long in mornings!
Musical and dance lesson lead choreographer Ernests Spīčs and musician Rasa Jansone

Red table with one leg…

Art lesson lead "Spriditis School's" leader Margita Poriete and artist Daiga Kļaviņa

Exchange footwear should be taken along!

Information: 29528421, spridisaskola@inbox.lv

Support:

www.sif.lv
www.eeagrants.lv
www.eeagrants.org
Project is financially supported by Iceland, Liechtenstein and Norway.
This publication has been made with European Economic Area's Financial Mechanism's and State of Latvia financial support.
The Riga Latvian Society is responsible for the content of the publication.