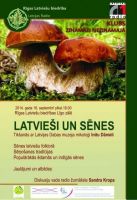 INVITES CLUB "KNOWN IN THE UNKNOWN"
03.10.2014


---
To the first meeting in new season – on Thursday, September 18, at 18.00 invites the club "Known in the Unknown". The theme this time has been created together with the Latvian Museum of Natural History in autumn mood - "Latvians and mushrooms".
During the meeting the mycologist of the Latvian Museum of Natural History Inita Dâniele will tell about importance of mushrooms in Latvian folklore, will reveal mushroom picking traditions, as well as the interesents will be able to found out the most popular eatable and not-eatable mushrooms. The club, as always, will be lead by the radio broadcast's "Known in the Unknown" journalist Sandra Kropa.
All are welcome!

www.sif.lv
www.eeagrants.lv
www.eeagrants.org
Project is financially supported by Iceland, Liechtenstein and Norway.
This publication has been made with European Economic Area's Financial Mechanism's and State of Latvia financial support.
The Riga Latvian Society is responsible for the content of the publication.