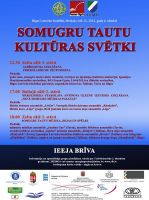 Finno-Ugric Culture Day
03.10.2014


---
On October 4, 2014 the Finno-Ugric Culture Day will take place at the Riga Latvian Society, in Merķeļa Street 13 from 12.30 to 20.00.

Finno-Ugric Culture Day is being organised in the framework of Estonian Brother Nations' month and it is initiated by Finno-Ugric Society in Estonia and Estonian Minority Union. The organisers are the Riga Latvian Society in cooperation with Livs' Union in Latvia and embassies of Estonia, Hungary and Finland in Latvia.

The main events of the Finno-Ugric Culture Day will be the following.
The event will start at 12.30 with ceremonious opening of the event that will be followed by reading afternoon (conference). There everybody will have opportunity to meet honorary guests, Finno-Ugric nations' ambassadors, representatives from Latvian and Estonian Culture Ministries, lecturers from Tallinn, Tartu and Riga Universities, to find out Finno-Ugric languages, traditions and their preservation nowadays. The day will follow with the opening of Staņislavs Antipovs' painting exhibition at 17.00, where old Finno-Ugric culture will show in modern presentation – in paintings, music and dance. The culture day will conclude with the concert that will start at 18.00. All the interesents will have opportunity to enjoy a beautiful, gnostic and attractive evening together with folklore groups and outstanding folklore musicians, to participate actively and find out more about Finno-Ugric music, dances and games.

We hope that Finno-Ugric Culture Day will promote developing of deeper culture understanding between people of different nations. It will activate pride of belonging to or connection with Finno-Ugric nations and feeling of community and positive contribution will be created to Latvian and each nation of Finno-Ugric states.

Participation in the event for groups bigger than 5 people, please, announce until October 2, 2014 by calling + 371 29528421 or through e-mail: margitaporiete@inbox.lv; www.rlb.lv

Working languages of the event: English and Russian.

The culture programme will be opened for every interesent without entry price.

The event is supported by: SIF EEZ NVO DAP project "Stand Hard, Work Bravely", contract No.2012.EEZ/DAP/MAC/068/1/NAC/054/2014,

State Culture Capital Foundation, Riga City Education, Culture and Sports Department, Latvian National Culture Centre, KS "Baltijas dārzeņi" (Baltic Vegetables), "Markol" Ltd., bistro "Garlībs 13", etc.

Initiators of the event:
1. MTU Fenno - Ugria Asutus, Tallinn, director Vija-Kadi Raudalainen, T: +372 528 9200; +372 644 5155, e-mail: kadi@fennougria.ee; www.fennougria.ee)

2. Honorary Consul General of Hungary Ariana Zupika, T: + 3712942631; e- mail: ariana@latnet.lv
3. Līvod It /Livs' Union, chairman Ieva Ernstreite, T: +371 2911 0828, e-mail: ievacdf@parks.lv

Event's organiser and coordinator:
Riga Latvian Society Folklore Commission's leader Margita Poriete,
T: + 371 29528421; e-mail: margitaporiete@inbox.lv.

www.sif.lv
www.eeagrants.lv
www.eeagrants.org
Project is financially supported by Iceland, Liechtenstein and Norway.This publication has been made with European Economic Area's Financial Mechanism's and State of Latvia financial support.The Riga Latvian Society is responsible for the content of the publication.