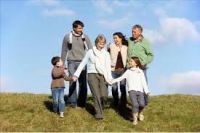 Family as a value in different cultures
13.05.2015


---

On Wednesday, May 6, at 19.00 all the interesents are welcome to participate in the interactive discussion about the importance of the family and its value in different cultures that will take place in the framework of the integration club "Culture-Charm". The event will take place in the Voluntary House, Mūkusalas Street 72/ ring button TREPES/ 3d floor.
The leader of the club "Culture-Charm" Ramona Liepiņa tells: "One of the basic values in Latvia is family. When the Family Day is approaching, that we celebrate on May 15, we wish to speak about our families and families of our friends – other culture representatives. How do we perceive the world trough the family culture? How do the roles are divided and how does the mutual relationship is made in the family? How the family members understand the ongoing things around – what is good, what is bad and what is valuable? What kind of traditions do they think are important? What is their attitude or reaction towards other cultures?"
The next club's meeting will be on Wednesday, May 13, when the Roma culture evening will take place.
The club "Culture-Charm" is the activity of the Riga Latvian Society project "Unity is our strength" (grant contract No. 2013.EEZ/PP/2/MIC/010/028) that is implemented by the creative association for youth "TREPES" and, where representatives of minorities, non-citizens and non-governmental organisations are invited