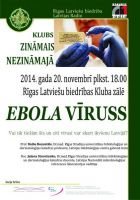 Club "KNOWN IN THE UNKNOWN" in November
14.11.2014


---
Club "Known in the Unknown"
Invites to the next meeting on Thursday – November 20, at 18.00 in the Riga Latvian Society Club Hall

Theme of this time will be "Ebola virus".

Can really this and other viruses affect everybody in Latvia?
During the discussion we will meet the professor Baiba Rozentâle, D. med., professor of Riga Stradiòð University's Infectology and dermatology department and Latvian Infectology Centre's main doctor, and doc. Jeïena Storoþenko, D. med., Riga Stradiòð University Infectology and dermatology department's associate professor, head of the Latvian National microbiology reference laboratory.

Admission free!

www.sif.lv
www.eeagrants.lv
www.eeagrants.org
Project is financially supported by Iceland, Liechtenstein and Norway.
This publication has been made with European Economic Area's Financial Mechanism's and State of Latvia financial support.
The Riga Latvian Society is responsible for the content of the publication.