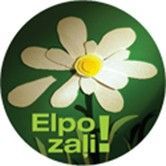 Call to participate in the society groups' informing campaign "BREATH GREEN!"
24.03.2014


---
Call to participate in the society groups' informing campaign "BREATH GREEN!"
Year 2014 started with active work in the society groups' informing campaign "BREATH GREEN!" that is one of the wider activities of the project "Let's open the world for opportunities and skills". The campaign "BREATH GREEN!" offers children and youth to participate in diverse, educational and creative activities that would promote the interest about healthy lifestyle.
Immunity, smoking dependence, "green thinking and living" – these are themes that are updated, researched and popularised during the campaign. The activity is organised by searching new, interesting methodology in the work with teenagers, youth and stated society risk groups.
We invite youth and children to become the participants of the campaign and involve in the activities:
Participate in the creative work competition about "green thinking", different hazardous habits and own immunity saving opportunities. The competition is taking place from February 17 to March 14, accordingly to competition's Regulations;
Special offer is a master class together with professional painter Kaspars Bçrziňđ to prepare the creative works more successfully! Best of the works, after the evaluation of jury, will be involved in the calendar for the year 2015. The master classes (2 academic hours) can take place in your premises in the time period from February 21 to March 12, adjusting the time and place in advance;
Play the interactive educational game about immunity, smoking, "green thinking" and tuberculosis with the help of floor square and questions – answers projection in your or our premises in the time period from February 25 to April 25, adjusting the time and place in advance. In the game can participate 2 – 4 teams with 5 – 6 participants in each team;

Participate in the Creative work exhibition opening activities in the Riga Latvian Society House on March 24;
Participate in the outdoor activity in the conclusion event and indoor activity in Upeslejas, Stopiňi Municipality on May 16.
To announce the desirable activities' place, date and time, please write to the e-mail:
More information: Ramona Liepiňa, Phone: +371 28356548
www.sif.lv
www.eeagrants.lv
www.eeagrants.org
Project is financially supported by Iceland, Liechtenstein and Norway.
This publication has been made with European Economic Area's Financial Mechanism's and State of Latvia financial support.
The Riga Latvian Society is responsible for the content of the publication