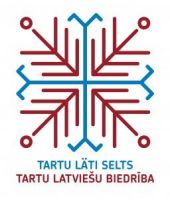 Tartu Latvian Society
27.01.2015


---
The Tartu Latvian Society was founded at the end of 2012. The aim of the Society – to sustain active Latvian culture life, give opportunities for local Latvians and their children to maintain their native language, identity and traditions, at the same time enriching cultural environment in Tartu.





The Society in its work actively cooperates with Estonians and local minority groups, as well as with Latvians in Latvia and abroad.

The Society leads the Board. The Chairman of the Society is Ilze Salnāja – Värv).



History and activities

At the beginning the members of the Tartu Latvian Society gathered informally for singing in the choir. Slowly the idea appeared about the founding of the Tartu Latvian Society. The Society was founded in 2012, officially uniting the Latvians living in Tartu and those, who had interest about Latvia's life and culture.

The Society members meet to sing, commonly celebrate different events and discuss ideas and plans for the future.



Contacts

Society address

Mailing address: Ravila 66-19, Tartu 50408, Estonia
Address for visitors: Tartu, Pepleri 27, 2nd floor

E-mail: info@terbata.ee; tartu.biedriba@gmail.com

Tartu Latvian Society Chairman Ilze Salnāja – Värv
Phone: 372 5646 7573

Tartu Latvian Society Board member Jānis Līmežs
Phone: 372 5918 5771

Home page

www.terbata.ee

facebook.com/Terbata