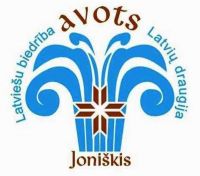 Joniski Latvian Society "Avots"
27.01.2015


---
....It is the most beautiful for us

Anyway.
M.Zālīte

The Joniski Latvian Society "Avots" was founded in 1998 in Joniski, Republic of Lithuania.
The Chairman of the Joniski Latvian Society "Avots" is Natālija Franckaitiene. The Society is managed by the Society's Council. Under the wing of the Society works also the Sunday school.
The aim of the Society is to guard and take care of Latvianity, paying especial attention to youth and children, who will inherit traditions and will be the continuators of the Society's work.




History

The founders of the Joniski Latvian Society "Avots" are Natālija Franckaitiene, Dzintra Elga Irbīte, Inta Čakimova, Romualds Franckaitis, Jons Ivanausks and Aivars Liepiņš.

When the Society started its work, regular meetings were organised, Christmas were commonly celebrated and organised trips to Latvia.

In 2002 Sunday school started its work. In school's activities have participated both, children of Lithuania's Latvians and Lithuanians.



Activities

The Society's members meet during Latvian State Proclamation celebrations and annual festivals. Meetings with guests from Latvia are organised. The Society actively cooperates with other Lithuania's Latvian Societies by participating in common events, especially during State holiday celebrations.

The Society cooperates with Joniski District municipality by organising Latvian concerts, exhibitions, culture worker camps and common projects. The Society cooperates also with Dobele and Valmiera Lithuanian Societies in Latvia by exchanging books and newspapers and organising common culture and sports events.

The most important is the Sunday school. There children learn Latvian language by playing theatre and making concert programmes. Also families of the children and former pupils of Latvians' school participate in concerts together with Latvian amateur groups. Until 1940 three Latvian primary schools and a secondary school was working in Joniski district. By involving children and youth in the Society's work, it is possible to find out more about Latvians', who live in Joniski surroundings life. Meetings with former pupils of Latvian schools are organised, materials about Latvians' history in Joniski surroundings are collected. Several pupils of Sunday school have successfully passed State language knowledge test in Latvia.

Regularly are organised excursions to Latvia. The Joniski Latvians participate in world Latvians' camps and other projects of supporting Latvian diaspora.



Contacts

Society's address
Joniski Latvian Society "Avots", Knygnešių Street 8, LT-84103, Joniski, Lithuania

Chairman of the Joniski Latvian Society "Avots" Natālija Franckaitiene
Phone 370 616 97515
Phone/Fax 370 42651345
E-mail: nfranckaitiene@gmail.com