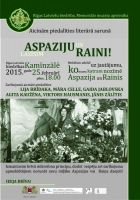 Year of Rainis and Aspazija at the Riga Latvian Society
25.02.2015


---
The Riga Latvian Society invites to participate in the literary conversation "Let's read Aspazija and Rainis!" that will take place in the Fireplace Hall on February 25, 2015 at 18.00.

In the third event of the cycle "YEAR OF ASPAZIJA AND RAINIS AT THE RIGA LATVIAN SOCIETY", organised by the Riga Latvian Society, RLS Literary Commission, as well as the Memorial Museum Union, we will speak about Aspazija and Rainis and will read their works. We will search for an answer what do Aspazija and Rainis mean for us.

In the event will participate Lija Brīdaka, Māra Celle, Gaida Jablovska, Agita Kaužēna, Viktors Hausmanis, and Jānis Zālītis. We will use free microphone principle, giving opportunity also for event visitors to read their favourite poem of Aspazija or Rainis.

Entrance is free!

The event support:

www.sif.lv
www.eeagrants.lv
www.eeagrants.org

Project is financially supported by Iceland, Liechtenstein and Norway.
This publication has been made with European Economic Area's Financial Mechanism's and State of Latvia financial support.
The Riga Latvian Society is responsible for the content of the publication.