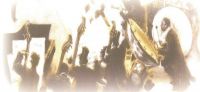 Vocal department students' reading – concert "New vocalists' parade"
31.03.2015


---
The Riga Latvian Society Music Commission invites to the Cycle's Jāzeps Vītols' Latvian Academy of Music teaching staff's and students' concerts' 17th concert season' Chamber music evening in the Riga Latvian Society Gold Hall on April 1, 2015 at 18.00 to the reading - concert "New vocalists' parade".

In the concert will participate: Zane Jankuna, Jolanta Strikaite, Laura Teivāne, Kristīne Žogota (soprano), Anastasija Ļebedjanceva, Irma Pavāre, Saiva Treide, Helēna Žukule (mezzo soprano), Vjačeslavs Aļeksejevs, Ansis Bētiņš, Mihails Čuļpajevs, Emīls Kivlenieks, Emīls Klaužs, Artūrs Zvirbulis (tenor), Kalvis Kalniņš, Rihards Millers (baritone), Pāvels Trofimiks (bass). Concert masters: Ērika Apeine, Elīna Bērtiņa, Ruta Birzule, Līga Kārkliņa, Dace Kļava, Inguna Puriņa. Introductory words by the docent Zigrīda Krīgere.

In the programme: arias from operas and songs.