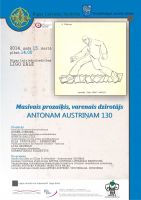 The grand prosaist, the mighty reveller
15.03.2014


---
The grand prosaist, the mighty reveller
Antons Austriņš - 130
All those, who know and like the Latvian well-known writer's Antons Austriņš' works are welcome to the event "The grand prosaist, the mighty reveller" on Saturday, March 15, 2014 at 14.00 in the Riga Latvian Society Ligo Hall. The Riga Latvian Society in cooperation with Vecpiebalga Municipality Council will celebrate the writer's 130th birthday in the framework of the State research programme "National Identity".

Vecpiebalga is A. Austriņš' native town. Honouring the outstanding man from the same district, a lot of Vecpiebalga citizens will participate in the celebration event. The event will start with the speeches by Vecpiebalga Municipality Council's Chairman Ella Frīdvalde – Andersone and the Riga Latvian Society Chairman Guntis Gailītis. The University of Latvia professor Ausma Cimdiņa will introduce the attendants with A.Austriņš' literary heritage. Vecpiebalga Secondary school's dramatic collective will offer their view in the musical performance "Memories by Antons Austriņš. My Father's Home" and Piebalga Museum Union's "Orisāre" manager Līva Grudule narrate about the theme "Antons Austriņš. Vecpiebalga. Nowadays."
All are welcome! The admission is free.

Antons Austriņš was born on January 31, 1884 in Vecpiebalga's "Kakaiši" in farmers' family. The basic education he has obtained in Vecpiebalga Upītes civil parish primary school. Later he has studied in Riga Teachers' Seminar and Zemstere Seminar in Petersburg.

In 1904 he has started working as a teacher in Ģipka town. During the year's 1905 revolution's demonstration in Riga on January 13 the writer was injured. Several months after the revolution's suppression he spent in jail. Until 1917 A.Austriņš lived without a passport and had to change his place of residence for several times. In 1919 during the Soviet time he worked in Latvian Education Society commissariat. From 1920 to 1923 he worked in the newspaper "Latvijas Vēstnesis" (Latvian Messenger); after that he fully devoted himself to literary work.

Antons Austriņš died in Riga in 1934, buried in Meža kapi cemetery.

www.sif.lv
www.eeagrants.lv
www.eeagrants.org
Project is financially supported by Iceland, Liechtenstein and Norway.
This publication has been made with European Economic Area's Financial Mechanism's and State of Latvia financial support.
The Riga Latvian Society is responsible for the content of the publication.