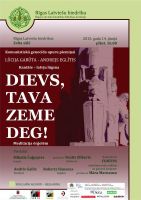 The concert devoted to the Communist Genocide victims "God, Thy Earth is aflame!"
14.06.2015


---
Commemorating the Communist Genocide victims" Day, the Riga Latvian Society offers to Riga citizens and guests the composer's Lūcija Garūta and poet's Andrejs Eglītis' cantata "God, Thy Earth is aflame!" on June 14, 2015 at 16.00 in the Riga Latvian Society Gold Hall. In the concert will participate the youth chamber choir Fortius (conductor Professor Māra Marnauza), soloists – Mihails Čuļpajevs (tenor), Andris Gailis (baritone), Professor Ventis Zilberts (piano), Roberts Hansons (organ) and the author of the essay – the Riga Latvian Society Music Commission Chairman, musicologist Arvīds Bomiks.
This cantata is the Latvian soul's pain prayer. It, with heated poetry and music images, spiting different powers and at the same time passing through decades, unites people. This cantata has become one of the Latvian nation's music culture symbols, holy and inviolable. It is always performed in Latvia's history commemoration the most important moments. Reminding about Latvia's history evidences to all generations, it has always been the bringer of everyday strength, faith and hope also nowadays. The performing of this cantata on Communist Genocide Victims ' Commemoration Day at the Riga Latvian Society has become a tradition that gather a lot of listeners. We commemorate the tragic destinies with thoughts hopefully looking into future – human and fair. Poet's heated words again and again urge people to think about Latvia today and its future. Still topical are Andrejs Eglītis' words written for the cantata – "Still there is no peace for fatherland". And as in other important moments of our country, in our thoughts we will pray for our Lat via, our fatherland, nation's future -
Give us shield of belief bright over perishable valleys.
The chosen qualitative staff of performers, as well as the offered outstanding composition will attest the importance of Latvia's history important events, their commemoration and necessity of popularising them nowadays that is especially important for the new generation's historic memory. The concert will promote also the maintaining of cultural heritage, and making of topical, intellectual cultural environment in Riga city.
Support: