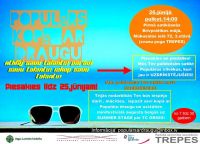 "POPULAR together with a friend!"- creative workshop, activities and mini festival for children and youth
26.06.2014


---
"POPULAR together with a friend!"- creative workshop, activities and mini festival for children and youth

The Riga Latvian Society and creative association for youth "TREPES" are organising workshops, activities and mini festival for children and youth from June to August 2014. The title of the educational and creative events' cycle is "POPULAR together with a friend!" and its main aim is to promote children and youth to spend their free time actively and thoughtfully. The opening event of the cycle will take place on June 26, at 14.00 in the Voluntary Participation House in Műkusalas Street 72, 3d floor.

The programmes of the workshops and events are developed so that children and youth should find and develop their talents, self-confidence and secure their values. In the events participate voluntary youth, next professionals, who work and study in culture and art spheres to seek commonly new opportunities for creative self-development. At the end of the activities' cycle the mini festival "POPULAR together with a friend!" will be organised by the trade centre ORIGO in August, popularising active and creative free time spending.

Similar activities will take place also in Norway, implemented by the Latvians' Society in Norway. Five best participants of the activities will visit the concluding event in Latvia.

The activity's "POPULAR together with a friend!" organiser Ramona Liepiňa tells: "Nowadays the values of youth have changed rapidly, comparing with youth 20 years ago. Nowadays youth wish to stand out from their contemporaries, they wish to be noticed, "popular" and successful. Not always they think about such vales as: how to reach it with their work, efforts, talents, skills and participation. Often the youth search for the ideal between popular, purposeful people or doubles of their convictions. By organising different free time activities for youth and using creative methods in informal education, we have thought how to help youth to obtain self-confidence and possibility of participation in the development process of their creativity, talent, values, so that he would become "popular" first of all for himself.

During the free time activities – creative workshops we will make together and find out: youth business cards, understanding about Avant-garde (crazy, outfit, body art), social attitude towards sub-culture and talent – creation in different genres. The opportunity to participate in team work, social work and voluntary work will be offered and to become "popular" as by working with a friend or a well-known personality.

We invite children and youth, who wish and dare to reveal and show their talent in different spheres to apply for the activities till June 25. Together we will meet and find well-known personalities, who have already ventured and revealed their talents! During the summer we will become acquainted, will become friends, and will make common cooperation and mini festival's programme.

On June 26, we will be waiting all the interesents in the Voluntary Participation House in Műkusalas Street 72, 3d floor (ring bell TREPES) to the activity's opening event and more close acquaintance!"

The activities are organised in the framework of the project "Let's Open the World for Opportunities and Skills" in cooperation with Latvian Presidency's in EU Council Secretariat and Latvian Children Foundation.

More information:
popularsardraugu@inbox.lv
Ramona Liepiňa, coordinator of the activity
GSM: +371 28356548








www.sif.lv
www.eeagrants.lv
www.eeagrants.org

Project is financially supported by Iceland, Liechtenstein and Norway.
This publication has been made with European Economic Area's Financial Mechanism's and State of Latvia financial support.
The Riga Latvian Society is responsible for the content of the publication