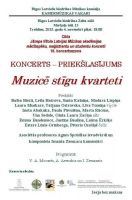 Play string quartets
04.11.2015


---
The Riga Latvian Society Music Commission and "Chamber music evenings" invite to the cycle's Jāzeps Vītols' Latvian Academy of Music teaching staff's and students' concerts " 18th concert season's concert – lecture "Play string quartets" on November 4, 2015 in the Riga Latvian Society Gold Hall at 18.00.

Participate: Baiba Biezā, Leila Hairova, Santa Kalniņa, Madara Liepiņa, Laura Muskare, Tatjana Ostrovska, Līva Tomiņa violin, Ineta Abakuka, Paula Pāvulēna, Marta Rācene, Una Sedole, Ginta Laura Zariņa viola, Emma Bandeniece, Justīne Baulina, Laima Ērkšķe, Estere Lūsis-Grīnberga, Pēteris Ozoliņš cello. Introductory words by the Associate Professor Agne Sprūdža and composer's Imants Zemzaris comments.

In the programme compositions of W. A. Mozart, A. Arenskis and I. Zemzaris.

Entrance free!

www.sif.lv
www.eeagrants.lv
www.eeagrants.org

Project is financially supported by Iceland, Liechtenstein and Norway.
This publication has been made with European Economic Area's Financial Mechanism's and State of Latvia financial support.
The Riga Latvian Society is responsible for the content of the publication.