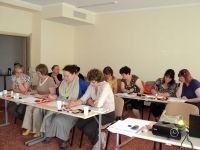 ON SEPTEMBER THE COURSES OF LATVIAN LANGUAGE, LATVIA'S HISTORY AND LEGISLATION WILL TAKE PLACE AT THE RIGA LATVIAN SOCIETY
19.08.2014


---
The course cycle, where all the minority representatives are invited, will start on September at the Riga Latvian Society. During the courses the participants will be able to acquire Latvian language, Latvia's history and legislation. The course cycle is organised in the framework of the Riga Latvian Society's project "Unity is our strength" (Grant's contract No. 2013.EEZ/PP/2/MIC/010/028).
The programme is developed so that after it finishes, the participants should be ready to pass successfully the naturalization examination and get Latvia's citizenship. At the beginning the Latvian language courses will take place, improving both, theoretical and practical skills. In its turn, starting from January, in the continuation of the courses the participants will be able to acquire Latvia's history, the main legislation questions, get insight in economics, human rights and civil education's basic approaches that will help better understand the situation in Latvia.
The courses will take place twice a weak: on Wednesdays from 17.30 – 20.20 and on Saturdays from 10.00 – 12.40 in the Riga Latvian Society House, Riga, Meríeďa Street 13. The courses will start on September 17 and will finish at the end of March. In conclusion of the courses the participants will receive certificates.
The courses will lead experienced lecturers: Latvian language - Dace Lukase, Latvia's history – Roberts Íipurs, Latvia's legislation - Jânis Ielîtis.
All the interesents are welcome to apply for the courses till September 15!
Applying and more information:
Coordinator of courses Dace Paegle
GSM: +371 29520251;
T.: +371 67226924
E-mail: dace.paegle@rlb.lv
When applying, please, indicate your name, last name, nationality, phone number and e-mail.






www.sif.lv
www.eeagrants.lv
www.eeagrants.org

Project is financially supported by Iceland, Liechtenstein and Norway.
This publication has been made with European Economic Area's Financial Mechanism's and State of Latvia financial support.
The Riga Latvian Society is responsible for the content of the publication