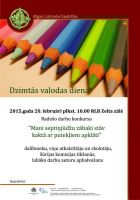 Native Language Day
20.02.2015


---
The event "Native Language Day" organise Latvian Language Agency in cooperation with the Riga Latvian Society Literature Commission. Latvian Language Agency announced creative work competition in Latvian schools "My seven-league boots are standing in the corner coated with dust".

This year in the competition participated youth not only from Latvian regions, but also from schools abroad – from New York Latvian Evangelic Lutheran Parish Bronx School, Stuttgart Latvian School, Latvian School in Hamilton, Brussels II European School, Weekend School "Pūcīte" in Ireland, New Jersey Primary School, Bonne Latvian School "Kamolītis", Latvian Sunday School in Moscow and Cork School in Ireland. All together 432 creative works: 273 literary works and 159 paintings were submitted.

In the creative work competition jury participated Latvian National Library Children Literary centre manager Silvija Tretjakova, UNESCO LNK Acting Secretary General Baiba Moļņika, professor of Latvian Academy of Culture, literary scientist Raimonds Briedis, Riga Latvian Society Collection keeper Gaida Jablovska and Latvian Language Agency's project coordinator Velga Līcīte-Meldere.

In the concluding event of the competition in the RLS Gold Hall will participate participants of the creative work competition "My seven-league boots are standing in the corner coated with dust", their supporters, teachers and jury commission's members. The event will take place on February 20, at 10.00. The best work authors will be awarded.

www.sif.lv
www.eeagrants.lv
www.eeagrants.org

Project is financially supported by Iceland, Liechtenstein and Norway.
This publication has been made with European Economic Area's Financial Mechanism's and State of Latvia financial support.
The Riga Latvian Society is responsible for the content of the publication.