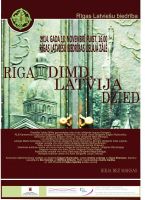 Latvia's men choir big-concert RIGA RESOUNDS, LATVIA SINGS
12.11.2014


---
The Riga Latvian Society greets Latvia, its citizens and guests
In the 96th anniversary of proclamation of the Republic of Latvia
On November 18, 2014 in the RLS Big Hall at 16.00
In Latvia's men choir big-concert
Riga resounds, Latvia sings!

Participate: Valdis Zālītis' Elementary school boys' choir (conductor Inguna Osmane), RLS Chamber choir Unigunde (conductor Edgars Račevskis), men choir Latvis (conductor Edgars Račevskis), men choir Absolventi (conductor Edgars Vītols), men choir Iustus (conductor Māra Batraga), LU Presidium's Convent men choir (conductor Arnis Paurs), "Latvia's Forest" employees' men choir Silvicola (conductor Aivars Opincāns), men choir Brocēni (conductor Iveta Logina), Amata county men choir Cēsis (conductor Marika Slotina-Brante), Talsi county men choir Dziedonis (conductor Astrīda Priekule), Valmiera Culture Centre's men choir Imanta (conductor Ilze Krūmiņa), men choir Gaiziņš (conductor Rita Briņķe), Jelgava county men choir Ozols (conductor Guntis Galiņš), Aizkraukle county men choir Staburags (conductor Māra Batraga) and Ventspils Culture Centre men choir (conductor Lorija Cinkuss).

Concert's artistic leader and conductor Edgars Račevskis, soloists Andris Ludvigs and Dana Bramane, piano accompaniment Ilze Ozoliņa and Mārtiņš Zilberts. RLS Chairman's Guntis Gailītis and Latvian Academy's of Science President's Ojārs Spārītis speeches.
ENTRANCE FREE!

www.sif.lv
www.eeagrants.lv
www.eeagrants.org
Project is financially supported by Iceland, Liechtenstein and Norway.
This publication has been made with European Economic Area's Financial Mechanism's and State of Latvia financial support.
The Riga Latvian Society is responsible for the content of the publication.