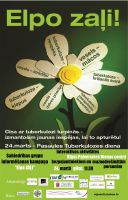 Interactive seminar in the world Tuberculosis Day in the Riga Shelter (Poor people home) Day Centre
24.03.2014


---
Society groups' informing campaign "BREATH GREEN!"
Interactive seminar in the world Tuberculosis Day in the Riga Shelter (Poor people home) Day Centre
Interactive seminar is one of the Society groups' informing campaign "BREATH GREEN!" activities in the framework of the project "Let's Open the World for Opportunities and Skills" (contract no. 2012.EEZ/PP/1/MAC/054/022) that is implemented by the Riga Latvian Society in cooperation with its partners – Creative association for youth TREPES, Strazdumuiža Boarding School - development centre for the visually impaired and blind children and Latvian society in Norway.
The aim of the interactive seminar is to play the educational game about healthy lifestyle, green thinking, smoking dependence and strengthening of immunity. This activity has been taking place for homeless persons and people of moderate means for already several years in the Riga Shelter Day Centre on March 24 that is the World Tuberculosis Day.
During the activity people, who have got negative life experience, can discuss topical themes from their point of view and, as it should be, to save one's own health and the society in general. The aim is not to teach, but to update the problems and their solutions.
Together with the volunteers the Riga Shelter Day Centre on March 24 at 11.30 will visit the musician Andris Kivičs.

More information:
Ramona Liepiņa, ra.trepes@inbox.lv , Phone: +371 28356548


www.sif.lv
www.eeagrants.lv
www.eeagrants.org
Project is financially supported by Iceland, Liechtenstein and Norway.
This publication has been made with European Economic Area's Financial Mechanism's and State of Latvia financial support.
The Riga Latvian Society is responsible for the content of the publication.