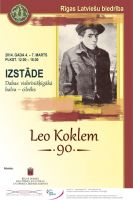 Exhibition "The most wonderful gift of the nature – a man"
07.03.2014


---
Exhibition "The most wonderful gift of the nature – a man"
Leo Kokle – 90
This year, on March 3 we will celebrate the outstanding Latvian painter's and portraitist's Leo Kokle's 90th birthday. Remembering the painter, the exhibition "The most wonderful gift of the nature – a man" will open one day later on March 4 in the Riga Latvian Society White Hall. In the exhibition will be exhibited Leo Kokle's works from the Latvian National Museum of Art, Ojârs Vâcietis' Museum funds and L.Kokle sister's Aina Íiríe private collection. Special spirit in the exhibition will create the painter's personal belongings: paintbrushes, photos, exhibition booklets, as well as newspaper clippings.
The painter himself has said: "Painting is all my life. I paint everything; however the man has always been in the centre of my attention. By painting the most wonderful gift of the nature – a man, I am trying to perceive his outer and spirit's beauty, to reveal his truth. I have always tried to be true in the art. The painter should be searching all the time, because to live means to change."
L. Kokle's contemporary painter Uldis Zemzaris remembers: "Leo Kokle wasted his energy and time without saving it, as well as we waste ours…, Leo always was the person, who fought for deep and true qualities, he knew his greatness and opportunities, although many of his works had gained pathos only later. Leo Kokle has never painted only for the painting itself. His school has come together with the traditional understanding of forms that has brought him in the direction of portraits. It has maybe always been his inner democratic thought that has told him to as if address his works to those, who made his active environment."
Leo Kokle (03.03.1924 — 07.12.1964) was Latvian painter and portraitist, initiator of the new painters' exhibitions' tradition, a popular and loved artist and one of the most talented painters of his time.
www.eeagrants.lv
www.eeagrants.org
Project is financially supported by Iceland, Liechtenstein and Norway.
This publication has been made with European Economic Area's Financial Mechanism's and State of Latvia financial support.
The Riga Latvian Society is responsible for the content of the publication.