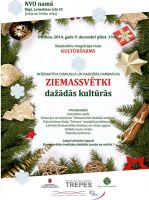 Everybody is invited to find out more about Christmas traditions in different cultures on December 9 in the NGO House
09.12.2014


---
All the interesents are welcome to find out more about Christmas traditions in different cultures and countries by participating in interactive discussion and creative workshop. The event "Christmas in different cultures" is organised in the framework of the intercultural integration club "Culture-Charm" by gathering representatives of non-governmental organisations and minorities. Latvians, Russians, Belarusians, Indians, Poles, Sri Lankans, Ukrainians and Brazilians participate in "Culture-Charm" activities.
During the event the interactive game "What does Christmas mean for me? What does it mean for my friend?" will be played. Everybody will have opportunity to participate in the discussion and listen to narration about common and different Christmas traditions in different cultures. The participants will be invited to participate in Latvian games, learn other nations' games and learn and sing Latvian Christmas songs. Polish culture club "Polonez" will perform Christmas songs to the guests.

Everybody will be able to make candle lanterns, fold 3D Christmas cards and decorate them in the creative workshops. After the event all the made works together with Christmas gifts will go to disabled people.

The next club's event will take place on December 16, at 19.00 in the Voluntary House. In the programme: voluntary work together with socially included group, Christmas celebration traditions and workshops.

All the interesents are welcome, as the club's activities are opened and friendly!

More information:
ra.trepes@inbox.lv
Ramona Liepiňa, club's leader
GSM: +371 28356548

www.sif.lv
www.eeagrants.lv
www.eeagrants.org
Project is financially supported by Iceland, Liechtenstein and Norway.
This publication has been made with European Economic Area's Financial Mechanism's and State of Latvia financial support.
The Riga Latvian Society is responsible for the content of the publication.