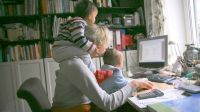 Discussions about opportunities to combine career, work and family life
15.05.2014


---
Discussions about opportunities to combine career, work and family life
On May 15 and 23, continuing the public discussionsí cycle organised by the Riga Latvian Society and resourcesí centre MARTA, two topical discussions will take place about opportunities to combine work and family life, searching for the answers, how changes womanís role and place in the family if the woman more and more focuses on her professional career.
In Latvian society the interest about the possibilities to combine work with a family life grow. Solutions are searched, how to create family-friendly working places, taking into account employerís and employeeís needs. In Latvia the definition for family friendly working place has not been still defined in the national politics level.
The need to reach more conformity between working and family life is expressed in the most important European Union political documents. These aims have been stated in the European Employmentís Strategy and European Sex Equality Pact and family politics acts. National countriesí governments are asked to focus on the opportunities to provide working places and working environment friendlier to the family. The fact that more and more women turn to professional career, but men get involved in the family life activities stimulates such steps.
During different society groupsí discussions the question: what is more important in humanís life Ė work or family - moves forward more often. The opinion that is dominating in the society reflects in the employment politics that work is subordinated to the family in the personís life, it is a mean for supporting the family. In Scandinavian countries the priority exchange is seen even in the conceptís formulation. Namely, they say: combining of family and work, not the other way Ė combining of work and family.
Still not EU in general, not Latvia has the common understanding about what is a friendly working place. The principles of a friendly working place are universal in its basis, but each organisation looks for its own family supporting strategy that is stated by the work particularities and possibilities.
The main expressions of the family friendly working place are meant: financial support, vacation opportunities, flexible work organizing, and support in children and parentsí care, informative and emotional support. The most important of them is flexible work organizing (varying with working hours, possibility to work at home) that allows to unite working activities with family needs, for example, taking care of children or senior relatives.
Discussions will take place in Riga, NGO House, Laimdotas Street 42. On Thursday, May 15 the discussion will start at 13.00, on Friday, May 23 the discussion will start at 17.00. The theme of the first discussion will focus on family questions; during the second discussion aspects of career will be touched.
Discussions are one of the Riga Latvian Society projectís ďLetís Open the World for Opportunities and SkillsĒ activities.
All are welcome!


www.sif.lv
www.eeagrants.lv
www.eeagrants.org
Project is financially supported by Iceland, Liechtenstein and Norway.
This publication has been made with European Economic Areaís Financial Mechanismís and State of Latvia financial support.
The Riga Latvian Society is responsible for the content of the publication