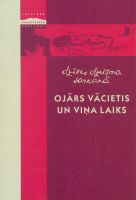 Conference and scientific readings' coleection's
29.11.2013


---
Thursday Readings
At the Riga Latvian Society
Lecture cycle
Latvian Academy of Sciences' readings
Year 2013

Conference and scientific readings' coleection's
"Ojārs Vācietis and His Time in Latvian Literature"
presentation

Concluding Ojārs Vācietis' anniversary's month, on 29th November, 2013 at 16.00 in the Riga Latvian Society Ligo Hall book "Ojārs Vācietis and His Time in Latvian Literature" (publisher "Zinātne") will be opened.

In the programme:
LU rector's Mārcis Auziņš, Minister's of Culture Dace Melbārde, Riga Vice-Chairman's Andris Ameriks and poet's Jānis Peters speaches, Mārtiņš Brauns' musical greetings, meeting with book's authors and publishing house's "Zinātne" book table.

"Life's Song in Red. Ojārs Vācietis and His Time" continues the series of editions "Research of Latvian Basic Texts" (leader Ausma Cimdiņa). It was started in 2010 by publishing scientific reading's collection "Lāčplēsis' Way in the World. Latvian Epos and European Eposes' Tradition" that is followed by "Text of Piebalga. Novel "Mērnieku laiki" (2011) by brothers Kaudzītes and "Text of Riga. Augusts Deglavs' Novel "Riga" – 100" (2013). Under way "Imants Ziedonis. Searchings of Belonging, Training of Freedom."
The book is based on the second international scientific conference's "Ojārs Vācietis and his time in Latvian literature" (Riga, 12.- 13.XI, 2012) presentations that was organised by Latvian Academy os Sciences and University of Latvia after initiative of Ojārs Vācietis' Society. The edition is divided in 4 parts: Ojārs Vācietis' time and poetics of poetry; Poetry contexts of Ojārs Vācietis and parallels of motifs; Ojārs Vācietis as a translator and in Russian translations; Ojārs Vācietis in memory culture. Kernel of the authors make LU Faculty's of Humanitarian Sciences docents and doctors (Ausma Cimdiņa, Valdis Muktupāvels, Ieva Kalniņa, Ludmila Sproģe, Nataļja Šroma, Ilze Brēmere, Austra Gaigala, Elīna Kļaviņa, Elīna Kokareviča, Rozanna Kurpniece, Jeļena Marčenko, Iveta Narodovska, Anastasija Vedela), as well as cooperation partners from other institutions - Kārlis Vērdiņš (LU Literature, Folklore and Art Institute's leading researcher), Edgars Lāms (Liepāja University professor), Ieva Ķīse (Ojārs Vācietis' Museum director) and writers interested in Ojārs Vācietis' literary heritage investigation - Jānis Peters, Rauls Čilačava, Roalds Dobrovenskis and Sergejs Moreino.

Organises: Riga Latvian Society in cooperation with Latvian Academy of Sciences
www.sif.lv
www.eeagrants.lv
www.eeagrants.org
Project is financially supported by Iceland, Liechtenstein and Norway.
This publication has been made with European Economic Area's Financial Mechanism's and State of Latvia financial support.
The Riga Latvian Society is responsible for the content of the publication.