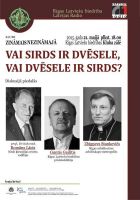 Club "Known in the Unknown" on May 28
19.05.2015


---
The Riga Latvian Society in cooperation with the Latvian Radio 1 broadcast "Known in the Unknown" invites to the meeting on May 21, 2015 in the Riga Latvian Society Club Hall.

During this meeting we will try to find the answer to the question: Is the heart the soul, is the soul the heart?

In the discussion will participate the Roman Catholic Archdiocese of Riga Archbishop Zbigňevs Stankevičs, Head of the Heart Surgery Centre, Professor Româns Lâcis and the Riga Latvian Society Chairman Guntis Gailîtis.

We inform that the next meeting of the club "Known in the Unknown" will be on already May 28 of this year and it will be devoted to the 135th birthday of the architect Eiţens Laube.

Entrance free!

www.sif.lv
www.eeagrants.lv
www.eeagrants.org

Project is financially supported by Iceland, Liechtenstein and Norway.
This publication has been made with European Economic Area's Financial Mechanism's and State of Latvia financial support.
The Riga Latvian Society is responsible for the content of the publication.