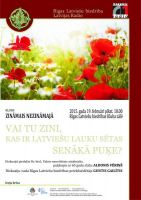 Club "Known in the Unknown" On February
16.02.2015


---
On February 19 the club "Known in the Unknown" invites its listeners to the next meeting in the Club Hall. Theme of this time will be "Do you know, which is the most ancient flower of the Latvian rural house?"

In the discussion will participate Dr. Biol., State scientist emeritus, floriculturist with 65 years' length of service Aldonis Vçriòð. The discussion will lead the Riga Latvian Society Chairman Guntis Gailîtis.

The club "Known in the Unknown" invites to meetings once a month in the Riga Latvian Society House. Each time it represents and educates the society about different interesting themes.

Entrance is free!

www.sif.lv
www.eeagrants.lv
www.eeagrants.org

Project is financially supported by Iceland, Liechtenstein and Norway.
This publication has been made with European Economic Area's Financial Mechanism's and State of Latvia financial support.
The Riga Latvian Society is responsible for the content of the publication.