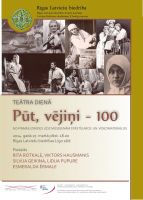 Blow, the Wind - 100
27.03.2014


---
Blow, the Wind - 100
On Theatre Day March 27, at 18.00 all are welcome to attend the event "Blow, the Wind – 100" that is devoted to the remembrance of the outstanding Rainis play's premiere. The evening will take place in the RLS Ligo Hall.
During the evening: historic insight in the play starting from the first its performance till nowadays in stories and video materials.
Participate: Rita Rotkale, Viktors Hausmanis, Silvija Geikina, Lidija Pupure and Esmeralda Ērmale.
The event organises the Riga Latvian Society and Eduards Smiļģis' Theatre Museum of the Latvian Academy of Culture.

www.sif.lv
www.eeagrants.lv
www.eeagrants.org
Project is financially supported by Iceland, Liechtenstein and Norway.
This publication has been made with European Economic Area's Financial Mechanism's and State of Latvia financial support.
The Riga Latvian Society is responsible for the content of the publication