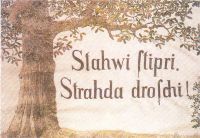 The summary of the project's "Stand hard, work bravely!" results
24.08.2016

The Riga Latvian Society implemented the project "Stand Hard, Work Bravely!" (No 2012.EEZ / DAP / MAC / 068/1 / NAC / 054) from July 16, 2013 until December 31, 2015
more ...
---
RIGA LATVIAN SOCIETY OFFERS PREMISES FOR DIFFERENT EVENTS
31.12.2014

The luxurious, historic building and the professional specialists, who have large experience in organizing different kinds of events, invite you to become our clients and collaboration partners.
more ...
---
---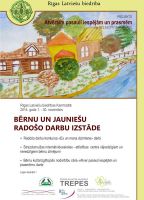 In November in the Riga Latvian Society will be opened children and youth creative work exhibition
03.11.2014

November is the month when approaches the concluding event of the project "Let's Open the World for Opportunities and Skills". During this month in the Riga Latvian Society Fireplace Hall all the interesents will be able to see the exhibition of the best children and youth visual art works that have been created during the project. In the exhibition have been combined creative works that have been made with special love, sincere and diligence.
more ...
---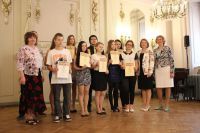 Creative work competition ME AND MY MOTHERLAND
10.10.2014

WHAT IS CRETIVE WOTK COMPETITION "ME AND MY MOTHERLAND?"
more ...
---