The Riga Latvian Society (RLS) is a voluntary, independent non-governmental
organization founded in 1868. Riga Latvian Society is the oldest Latvian organization
in the world. It is the place for important historic and culture events in Riga and
Latvia.

The work of the Riga Latvian Society includes cultural and public activities,
organizing cultural projects and programmes and renting the historic Riga Latvian
Society premises: Big Hall, Gold Hall, White Hall, Lîgo Hall, Kluba Hall and Gold
Hall salon that are appropriate for different events – conferences, concerts, social
gatherings, exhibitions, dances, and meals.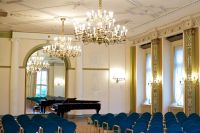 RIGA LATVIAN SOCIETY OFFERS PREMISES FOR DIFFERENT EVENTS
31.12.2014

The luxurious, historic building and the professional specialists, who have large experience in organizing different kinds of events, invite you to become our clients and collaboration partners.
more ...
---
---
---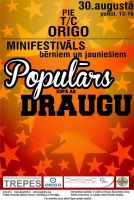 Mini festival "POPULAR together with a friend!" invites children and youth
27.08.2014

The Riga Latvian Society and creative association for youth "TREPES" were organising workshops, activities and mini festival for children and youth from June to August 2014, which main aim was to promote children and youth to spend actively and thoughtfully their free time. The programmes of the workshops and events are developed so that children and youth should find and develop their talents, self-confidence and secure their values.
more ...
---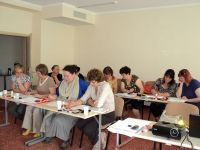 ON SEPTEMBER THE COURSES OF LATVIAN LANGUAGE, LATVIA'S HISTORY AND LEGISLATION WILL TAKE PLACE AT THE RIGA LATVIAN SOCIETY
19.08.2014

The course cycle, where all the minority representatives are invited, will start on September at the Riga Latvian Society. During the courses the participants will be able to acquire Latvian language, Latvia's history and legislation. The course cycle is organised in the framework of the Riga Latvian Society's project "Unity is our strength" (Grant's contract No. 2013.EEZ/PP/2/MIC/010/028).
more ...
---